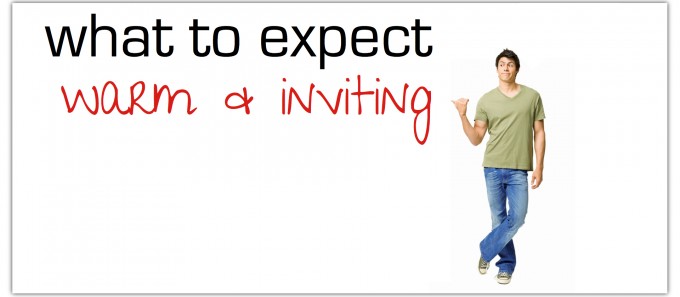 We think going to church should be a fulfilling and fun experience that helps you really connect with God and his people. You should also be able to relax and be yourself. So whether you're looking for a place to connect for the first time, or you are in a season of transition from somewhere else, we hope you'll join us on a Sunday morning to experience for yourself what MCC is about.
warm & inviting atmosphere
MCC really is a welcoming group of people who will receive you just as you are. You'll find men, women and children from every age, race and economic background, all striving to know God better and excited to help you feel at ease.
casual dress
Whether you are a jeans and t-shirt person or prefer suits and dresses, you will feel at home at MCC. We are people just like you.
engaging worship
MCC's worship style is very contemporary, inspiring, enthused and sincere. We purposefully seek to engage all five senses through the creative use of the arts because we believe God's love and magnificence are worth celebrating.
relevant teaching
Our times together on Sundays and in other settings are opportunities to learn and to be challenged to live according to the life and teachings of Christ. Like Jesus, we endeavor to connect deep spiritual truths to the everyday occurrences and decisions of our lives, making the Bible completely relevant for everyone today.
family-friendly
Commitment to family is a vital part of MCC. During each of our services, we provide exciting and safe environments for children through Fifth Grade to learn and understand more about God. Additionally we offer amazing ministries for teens, mid-week ministries for children and various groups where parents and children can grow to love Christ together.
you may be new here, but you're not alone.
We're here for you. No matter your age, stage of life or what events have occurred in your past, we're here for you and want to connect with you. So please join us for one of our two identical Sunday morning services at 9am or 11am. We believe you will discover the exciting and refreshing journey that God has in store for you.
Please visit our Welcome Desk in the Grand Foyer where our wonderful volunteers are eager to help you discover more about MCC. Also be certain to receive a free gift just for being our guest on a Sunday!
We would love to meet you at our next
Newcomers Brunch.
This casual time of discovery occurs every six to eight weeks at 10:30AM. We provide a light brunch for you and the children (children's ministries are also available). You'll have a chance to meet our pastoral staff and fellow guests at MCC. The brunch and brief presentation usually lasts about 20 minutes. See our
online calendar
, weekly bulletins, or contact
Karen Mitchell
to find out when our next Newcomers Brunch is scheduled or for additional information about connecting here at MCC.