As Pastor of Adult Ministries at MCC, I am responsible for the pastoral care and oversight of the people and programs involved in adult ministries at our church. Thus, it is my privilege to identify, connect with, support, encourage, train, and release leaders in eighteen current adult ministry settings. I also share in general pastoral duties (i.e. hospital visits, weddings, some teaching and preaching responsibilities, etc.) as well as some general administrative duties in our church office. My wonderful assistant,
Karen Kinsel
, helps me keep all of these duties straight!
BRIEF BIO…
I was blessed to grow up in Salem, VA, so you might detect a slight southwestern Virginia accent as I type. Raised by godly parents who still faithfully serve in their local A/G church, I value my wonderful heritage of faith in Christ. Following high school, I earned a business degree from James Madison University (GO DUKES!) where I met the most important woman in my life and love of my life, Stacey Smith. Originally from Portsmouth, VA, Stacey grew up in a strong, Southern-Baptist household. (Since being baptized in the Holy Spirit, I like to call her a "completed Southern Baptist.") Stacey and I married one year after she earned her music education degree from JMU, and we began our life-long journey together.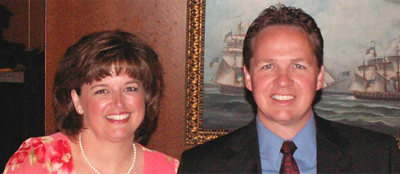 OUR JOURNEY TO MCC…
After serving as volunteers in the Salem church for several years, Stacey and I moved to Chesapeake, VA, so I could attend Regent University and pursue a Masters of Divinity degree. After cramming the three-year program into four and a half years, we helped start a cell church in Virginia Beach. In 1997, I joined the pastoral staff of a seeker-style church in the Richmond area. In March of 2000, we became senior pastors of a Pentecostal Holiness (IPHC) church in Portsmouth, VA. It was during this time that God blessed Stacey and me with the second-most important woman in my life: our daughter, Emily Grace.
Stacey and I resigned from our pastorate in Portsmouth in March 2008, knowing simply that the Lord had said that our season of ministry there was concluded. Shortly afterward, God connected us with Pastor Carter and the leadership team at MCC. We instantly felt a relational and spiritual connection with this wonderful team! In less than three months, God enabled us to sell our house in Portsmouth, find a wonderful house in Mechanicsville, and officially join the MCC family on June 1, 2008. We are so thankful to be a part of this wonderful church!
PERSONAL INFO…
Stacey and I love getting together with friends to play games (like Phase 10 or Bunko) or even to watch a great movie (popcorn is required). Emily loves going for bike rides, going to the park to play, and sharing "silly stories that never happened." She is really great at "decorating" her room (can't be explained, only experienced!)