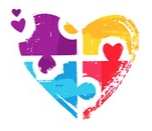 God's S.O.N.G. & God's M.U.S.I.C.
Designed for Your Child with Special Needs

Does your child have a special need or disability which impedes him or her from attending Sunday School? Does your child's need prevent you from attending worship on Sundays? If you answered yes to either question, MCC is a place where you and your child can feel included and valued. We attempt to serve children ages 2 to 12 years and age 13 to adults who have physical and behavioral challenges.
God's S.O.N.G. (Serving Our Next Generation) Ages 2 - 12
God's SONG is Sunday School designed to celebrate and meet the needs of children with multiple special health care needs. The class focuses on celebrating the Word of God with music and teaching in a safe and loving environment. Since most children have sensory needs, the team provides one-on-one support in a learning environment. Our mission is to provide a place for all to worship.
God's SONG meets every Sunday at 11AM in Rooms 106 & 107.
Pre-registation is required prior to attending.
Please call or email Joanna Frank (746-4303 x 360 jfrank@mccag.org) to register your child or to learn about volunteering in this ministry.

God's M.U.S.I.C. (MCC's Unique Servants In Christ) Ages 13+
God's MUSIC serves physically and mentally challenged children and adults (age 13 and up) by carefully including them in ministries throughout Mechanicsville Christian Center when and where it is appropriate. Our team works hard to assess the students and assists them to participate in serving others. Inclusion in the Body of Christ is our goal. Since the year 2000, most of our children with special health care needs have successfully served in other ministries.

God's MUSIC also works with families to provide opportunities for typical peers to meet with and get to know the student if he or she is unable to attend church to due medical or behavioral needs.
Please call or email Joanna Frank (746-4303 x 360 jfrank@mccag.org) to learn more about God's MUSIC or about volunteering in this ministry.

"Our friends with disabilities remind us of God's grace. For without Christ you were once disabled spiritually, unable to move into his kingdom, as well as, blind to His purposes and deaf to His voice. But by His grace you are made whole." _Joni Eareckson Tada